April 5th, 2013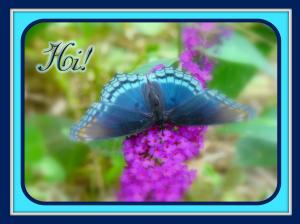 I've never done a blog or even thought of doing a blog. It's tempting to try so here goes:>)

Every so often this blog will have a little information on a chosen nature subject. I make no pretense of being especially learned or trained; this is strictly amateur me talking to you as if you were sitting at the kitchen table with me drinking tea and nibbling on cookies.

Today we'll be looking at the Jack-In-The Pulpit wildflowers that grace our woods during springtime.




Jack-In-The-Pulpit plants are denizens of the rich woods. They prefer light shade. The pulpit is a spathe shielding a spadix that has the actual flowers. Fertilization is done by attracting flies with warmth and an odor. Look for them in May.

Once the flowering is done, the leaves linger on to make food for the plant and nourish the developing seeds. Autumn brings noticeable seed stalks with bright red seeds - by then the leaves are gone.

It ranges throughout moist woods in eastern North America, from Nova Scotia west to Minnesota, and south to southern Florida.

These photographs were taken in springtime in Montgomery County, PA., USA.

For more information you can visit:

http://www.wildflower.org/plants/result.php?id_plant=ARTR

If this works out as a blog post, or if I can even tell that it is "out there", I'll do more another day:>). I have no idea where this goes, who sees it, or when it shows???